Fred Russell-Grantland Rice Scholarship
Awarded to an outstanding high school senior with special interest and potential in the field of sports writing.
The scholarship honors
Vanderbilt alumni Grantland Rice and Fred Russell, two of the greatest sports writers of all time. Initially, the scholarship was created in 1956 to honor Grantland Rice, the dean of American sports writing, who died in 1954. The scholarship received a funding endowment from Mr. Cella on behalf of the TRA in 1986, and its name was amended to include the late Fred Russell, the famed Nashville Banner sports columnist for 69 years and a mentor to many of the scholarship winners.
The scholarship winners,
selected by a panel chaired by Oaklawn Park President Charles J. Cella, have distinguished themselves not just in sports writing and broadcasting, but in other fields as well.
The scholarship has an extraordinary record of producing prominent and successful writers and television personalities, including Roy Blount, Jr., Bill Livingston, Skip Bayless, John (Joe Bob Briggs) Bloom, David Sheinin, Tyler Kepner, Lee Jenkins, and Daniel Wolken.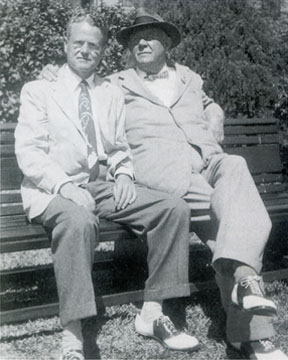 Fred Russell and Grantland Rice in 1951.
1956 Charles Nord, Nashville, Tenn.
1957 Thomas Templin, Lexington, Ky.
1958 Larry Daughtrey, Nashville, Tenn.
1959 Roy A. Blount, Mill River, Mass.
1960 Saxon K. Chapin, Atlanta, Ga.
1961 Thomas D.Quinn, South America
1962 Robert E. Theil, Millbrae, Calif.
1963 Richard S. Osborne, Sharon, Pa.
1964 Leonard Goldstein, Miami, Fla.
1965 Michael Kierman, Arlington, Va.
1966 William Livingston, Voorhees, N.J.
1967 Barry (Mackie) Morris, Columbia, Mo.
1968 Dennis P. McAuliffe
1969 David R. Rapp, Nashville, Tenn.
1970 Skip Bayless, Dallas, Tex.
1971 John I. Bloom, Dallas, Tex.
1972 Irving Muchnick, New York, N.Y.
1973 Kevin Cuneo, Erie, Pa.
1974 Kevin McDonald, Silang, Cavite Phillipines
1975 David Brooks, Teaneck, N.J.
1976 Michael L. Jackson, Laconia, N.H.
1977 Edward O. Wilson, Greenwich, Conn.
1978 Charles Euchner, Huntington, NY
1979 Kenneth C. Ray, Boise, Idaho
1980 Zachary V. Wenger, Eagle River, Aka (81-82) & Andrew Byer, Columbia Blauvelt, N.Y. (83-84)
1981 C. Richard Bush, Lenoir, N.C.
1982 Mike D. Cornwell, Carlsbad, N.M.
1983 Tena B. Robinson, Fort Lauderdale, Fla.
1984 Thomas Wilson, Troy, Ohio (85-86) & Chuck Manson, Florence, Ala. (87-88)
1985 Paul J. Richman, Hacienda Heights, Calif.
1986 Michael Holmes, Haverville, Mass.
1987 David Shenin, Carrollton, Ga.
1988 Andrew Maraniss, Austin, Tex.
1989 Mitchell Light, New Providence, N.J.
1990 Clay Hensley, Cleveland, Tenn.
1991 Matthew O'Keefe, Wilmington, Del.
1992 Andrew M. Derr, Braddock Heights, Md.
1993 Tyler Kepner, Gwynedd Valley, Pa.
1994 Allan Owen, Klein, Tex.
1995 Lee Jenkins, La Jolla, Cal.
1996 Not Awarded
1997 Daniel J. Wolken, Hot Springs, Ark.
1998 Samuel Heide, Birmingham, Ala.
1999 Jeffery D. Lowe, Dallas, Texas
2000 Matthew J. Meenan, McLean, Virginia
2001 Robert C. Murray III, Brentwood, Tenn.
2002 Byron P. Dubow, Alphretta, Ga.
2003 Matthew McDavid, Bethesda, Md.
2004 Christopher Fielding, Atlanta, Ga.
2005-2006 Not Awarded
2007 David Aaron Namm, Clearwater, Fla.
2008 Meghan Rose, Towson, Md.
2009 Eric Single, Marietta, Ga.
2010 Jack Kuhlenschmidt, Los Angeles, Calif. & Jackson Martin, Atlanta, Ga.
2011 Matthew Citak, Riverdale, N.Y. & Anthony Tripodoro, Mineola, N.Y
2012 Adam Birnbaum, Weston, Fla., Nathaniel Heagney, St. Louis, Mo. & Ben Weinrib, Charlotte, N.C.
2013 Thomas McGrath, New Haven, Ct. & Caroline Meisel, McLean, Va.
2014 William Huesken, Cleveland, Ohio
2015 Cutler Klein, Chappaqua, New York
2016 Max Schneider
2017 Elizabeth Goodfriend